Each quarter the Goetze Dental team looks for new dental supplies and equipment to share with you in our quarterly flyers. We talk to manufacturers, review industry trade magazines, ask our sales teams and more to find new or newly relevant products. We're looking for products that enhance the level of care you provide for your patients and those which make things better for patients and for you are a plus. This Best of 2019 list highlights all of the products which were chosen for the quarterly flyers in 2019. Each product is linked to our Winter 2020 promotional flyer that contains current promotions and prices.
We always welcome your feedback! Have a new, favorite product to share? Email us at marketing@goetzedental.com. We'd love to know what you love and why you recommend it.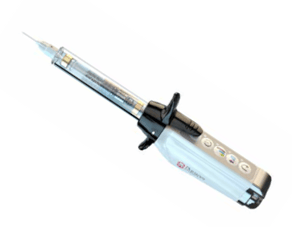 The Dentapen is a self-contained, cordless, powered injector indicated for routine administration of local anesthetics.
» Ergonomic and lightweight (1.4 ounces/40 grams)
» Compatible with the needle of your choice
» Two different handles allow you to hold like a traditional syringe or pen-style
» Cordless and battery-operated without a foot pedal or console
» Three injection speeds for better management of your injections
» Two modes (continuous flow or gradual increase)
Contains 1 Dentapen, 5 syringe-style finger grips, 2 pen-style finger grips, 7 cartridge holders, batteries and protective sleeves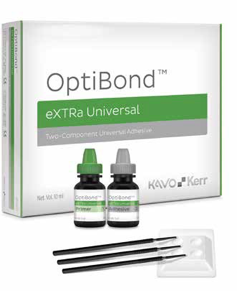 OptiBond™ eXTRa Universal is a two-component universal light cure adhesive, providing outstanding adhesion to all composite, self-cure, dual-cure and light-cure resin cement and core build-up material eliminating the need for any auxiliary product.
Features:
» Self-Etch, Selective Etch and Total Etch techniques
» Two-component only
» GPDM Monomer ensures more effective and reliable adhesion
» Smart pH technology Benefits:
» Etching versatility
» Consistent and simplified protocol
» Superior bond strength
» Effective enamel etching and dentin tubule penetration
» Outstanding indirect compatibility
577050 - OptiBond eXTRa Universal Bottle Kit
Contains: 1 bottle self-etching primer (5mL), 1 bottle universal adhesive (5mL), accessories
577051 - OptiBond eXTRa Universal Unidose Kit
Contains: 50 unidose self-etching primers (0.18ml each), 50 unidose universal adhesives (0.185ml each), accessories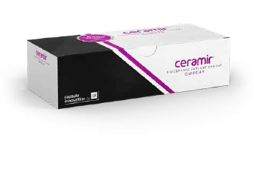 Ceramir® Bioceramic Implant Cement is a permanent, resin free, radiopaque bioceramic cement with excellent handling properties.
Indications for use
Permanent cementation on implant abutments of:
» Metal and porcelain fused to metal restorations
» High-strength ceramic restorations suitable for conventional cementation (e.g. zirconia, alumina and lithium disilicate)
Key Advantages:
» Designed to minimize the risk of peri-implant disease
» Superior cell and biocompatibility
» Only implant cement with apatite forming ability
» Excellent flowability-easy seating
» Easy removal of excess cement due to controlled gel phase
577573 - Ceramir® Bioceramic Implant Cement Quikcap (10/PACK)
TPH Spectra® ST Flow is a flowable composite restorative material with nov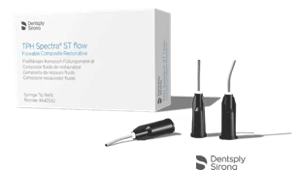 el SphereTEC® filler technology that brings enhanced simplicity and versatility to traditional flowable indications.
» Highly esthetic appearance
» 2mm depth of cure suitable for all traditional flowable indications
» Medium stack-and-flow handling to accommodate common applications
» 5 shade covers cover the full VITA range (A1-A4) + 4 additional shades for added effects (BW, D1, D3 E1)
» Available in compula® tips and syringe deliveries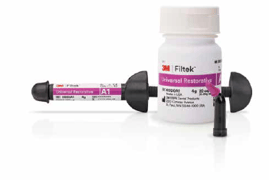 The new Filtek™ Universal Restorative combines two of 3M's top technologies. Low-stress monomer technologies help protect against shrinkage stress and TRUE nanotechnology provides high strength and excellent wear resistance.
» Simplified shade selection
Universal opacity to blend more naturally

Extra White (XW) for matching bleached teeth
Fluorescent pigments to give restorations a lifelike appearance
Pink Opaquer to easily mask dark areas
» 3M's nanotechnology for easy polish that lasts
» Low-stress monomers for fracture resistance
» Increased radiopacity for easier identification at recall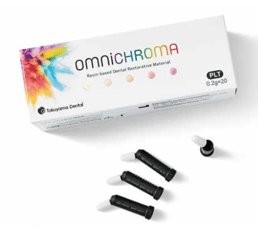 OMNICHROMA® is the first universal composite that offers one shade to match all patients. The red-to-yellow structural color generated by OMNICHROMA combines with the reflected color of the surrounding tooth and creates the perfect match for almost every patient.
» Unprecedented shade-matching ability and esthetics
» Exceptional handling, polishability and strength
» Reduction of inventory of necessary composite shades
» Minimized chair time and reliance on shade-matching procedures
577418 1-4gm syringe
577417 20-.25gm PLT's
OMNICHROMA® Universal Composite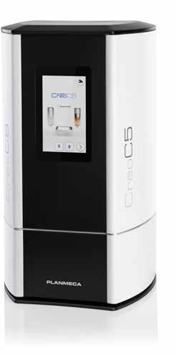 Planmeca Creo™ C5 is the perfect combination of speed and precision you have been waiting for. Designed specifically for dental clinics, the durable and compact chairside 3D printer enables fabricating dental applications, such as surgical guides, in a single patient visit.
Key benefits of Planmeca Creo C5
» Print the applications you need – when you need them
Planmeca Creo C5 is a fast, calibration-free plug-and-play solution that allows you to fabricate the applications you need for quicker and smoother
» Save time and resources by producing several dental applications at once
The LCD technology of the printer allows you to print up to 10 objects at once without extended printing
» Obtain predictable, industry-quality results with a device targeted for dentistry
Planmeca Creo C5 has a robust, high-strength aluminium body and a highly accurate z-axis movement mechanism. The mechanical precision combined with the distortion-free LCD technology results in a highly accurate and predictable result – every time!
» Take charge of your workflow from start to finish
The unmatched build speed of Planmeca Creo C5 allows you to prepare and finish cases during a single visit, saving your time for the next patient – a natural addition to Planmeca's solutions that make Same Day Dentistry
» Add value to your clinic with new production capabilities
Low material costs and different resins allow you to offer new chairside services to your customers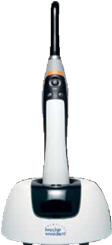 The innovative Bluephase® PowerCure curing lights are designed for the intraoral polymerization of light-curing dental materials.
These Bluephase devices are the first intelligent LeD lights that actively assist the operator during the light-curing procedure. With its Polywave® LED with broadband spectrum, Bluephase G4 is suitable for the polymerization of all light-curing dental materials curing in the wavelength range of 385-515nm..
» Reliable curing performance due to Polyvision technology
» Short curing time of 3 seconds with 3S PowerCure product system
» Suitable for every light-curing material due to Polywave LED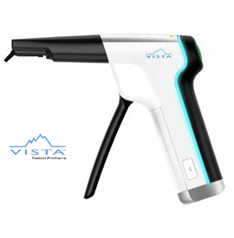 Phasor™ composite warming system uses near infrared technology to rapidly warm highly filled composite compules. With the touch of a button, Phasor is able to heat composite material
to 150°F in seconds, and maintain that temperature throughout the procedure, while remaining cool to the touch. This technique provides the benefits of bulk fill, highly filled and flowable composite in one.
» Procedural efficiency
» Lower viscosity
» Does not damage pulp tissue or cause discomfort
» Less voids & microleakage
» Rechargeable battery
577606 - Phasor™ Complete Kit: Contains 1 Phasor gun, 3 removable nose cones, 100 plastic barrier sleeves, 1 stand, 1 power supply.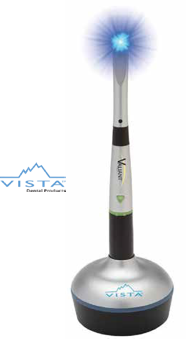 » Multispectral, uniform beam through 395-500 nm wavelength range
» Versatile to polymerize nearly all light-cured dental materials
» 4 LED's operate through three curing modes PLUS transilluminator 'white light'
» Lightweight and ergonomic style
» Intuitive, easy operation with one-button soft touch on/off switch
» Quick-change battery pack that's easily detached and reattached
577608 - Valiant° Curing Light
Contains: 1 handpiece, 1 battery pack, 1 charging base, 100 protective sleeves, 1 universal plug set and 1 curing light shield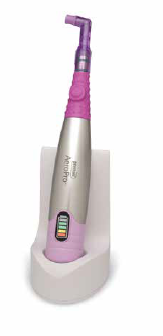 Now there's finally a light-weight, ergonomic cordless and pedal-less handpiece that gives you the mobility you want, the choice of prophy angles you like, and the control you need. Based on extensive input from dental professionals, AeroPro's innovative design helps reduce hand fatigue by allowing you to rotate the angle 360' for improved intraoral access and comfort.
» Long-lasting ChargeSMART™ battery-gets you through the day
» Total mobility with no cord drag or rheostat
» Works with Premier 2pro® and most DPA's
» Choose speed with quick-touch button
» CDC compliant-convenient tested & approved infection prevention protocol
Contains: 1 motor component, 1 autoclavable outer sheath, 1 charging station, 1 AC adapter, 1 stand, 1 box of 500 disposable barriers, 48 2pro disposable prophy angles and accessories
578213 AeroPro Complete Package
Contains: 1 motor component, 3 autoclavable outer sheaths, 1 charging station, 1 AC adapter, 1 stand, 1 box of 500 disposable barriers, 288 2pro disposable prophy angles and accessories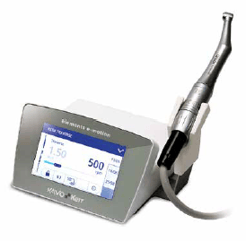 The KaVo Kerr elements e-motion endodontic motor with next generation Adaptive Motion technology enables
higher cutting efficiency and greater protection against file separation, deformation and transportation. The intuitive, full-color touch screen and customizable interface allows users to program up to give pre-sets with ten files each for streamlined efficiency.
» Four handpiece mounting options to comfortable accommodate left or right handed use
» Handpiece with a smaller head for better visibility and easier posterior access
» Maximum file sequence customizability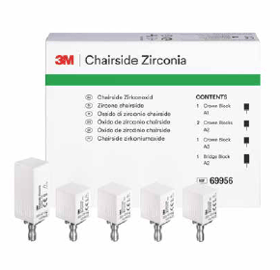 New 3M Chairside Zirconia enables you to provide the results you want, and the esthetics you desire, for crown and bridge restorations. Available in two pr-shaded block sizes in eight shades for easy shade matching,
3M Chairside Zirconia boasts the high strength that restorations demand with a fast sintering time of approximately 20 minutes for a thin walled crown.
Contains: 1 crown block A1, 2 crown blocks A2, 1 crown block A3, 1 bridge block A2, Instructions for use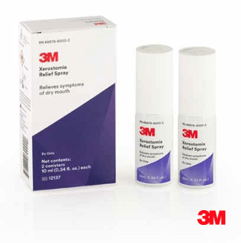 3M™ Xerostomia Relief Spray is a lipid-based spray designed to provide rapid, effective and convenient relief of xerostomia symptoms. The lipid based oxygenated glycerol trimester (OGT) technology helps to moisten and lubricate the mucosa and lock in moisture.
» Long lasting relief for up to 4 hours
» Convenient spray vial with no mixing or rinsing required
» Each refill contains 2-10mL spray vials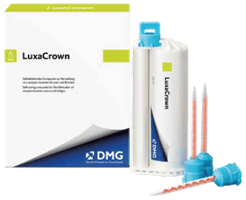 LuxaCrown is a self-curing composite used for the fabrication of semi-permanent crowns and bridges that are cemented with permanent or temporary luting cement. This unique product allows for the simple, quick and cost-effective manufacture of long lasting crowns-directly chairside. The result is an incredible precision fit and an esthetic and long lasting restoration. Characterized by natural fluorescence and high shade stability, a choice of five shades is available.
» Semi-permanent up to 5 years
» Versatility in applications and uses
» Optimum mechanical properties
» Excellent fracture toughness and flexural strength
» Excellent polishability
» Simple processing
» Reliable durability
Contains: 1-50ml Cartridge and 15 Automix Tips 578437-A1
578438-A2
578439-A3
578440-A3.5
578441-B1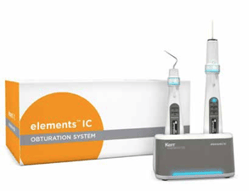 The cordless elements™ IC Obturation System combines a Downpack heat source with a Backfill extruder. The Downpack device provides fast heating of the heat plugger
with precisely controlled temperature and timing, making it suitable for single-motion downpack obturation of the apical portion of the root canal. Utilizing single-use gutta percha cartridges, the ergonomic Backfill device has a motorized extruder system for precise temperature and speed control for a 3-dimensional obturation of the root canal system.
Both handpieces are charged using inductive charging technology.
579027 - elements IC Obturation System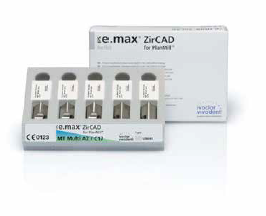 IPS e.max ZirCAD MT Multi blocks have a natural shade and translucency gradation from MT to HT with the ability to recreate the dentin and enamel progression of natural dentition. Highly esthetic zirconia crowns and 3-unit bridges can be fabricated. Highly esthetic zirconia crowns and 3-unit bridges can be fabricated chairside same-day treatment. Can be conventional, self-adhesive, or adhesive cementation.
» Fast easy fabrication for chairside CAD/CAM
» Beautiful esthetics
» High strength