When it comes to dental equipment, preventative maintenance is a must. Equipment must be properly cared for to keep instruments working at peak performance for as long as possible, but also you—as the health care provider—and your patient must be kept safe from infection. Through preventative maintenance tasks daily, weekly, monthly and annually, your dental practice lessens the chances of unexpected equipment failures resulting in downtime, as well as more importantly, safety concerns.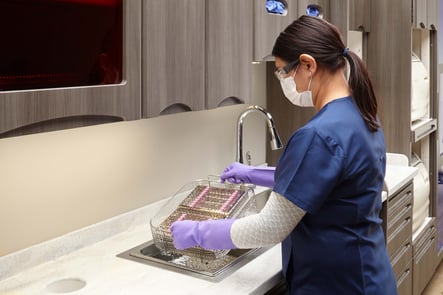 As you know, managing a dental office and the necessary dental equipment maintenance tasks is often overwhelming. Our goal here is to simplify things in a short three-part blog series covering dental equipment preventative maintenance specific to sterilization, operatory, medical gas and IT tasks.
Photo Cred: MidMark, QuickClean Ultrasonic Cleaner QC3 and QC3R
First up:
Sterilization.
Does your process have a well-outlined document outlining all tasks associated with sterilization? With patients coming and going and the business of the day, it is important that these are clearly visible and imperative they are performed well to minimize contamination and infection. Review these tasks with your team often, and make sure to revise them as necessary. In doing so, you will find they become second nature.

DAILY TASKS:
Morning
Flush waterlines on delivery units with preferred treatment solution for a minimum of two minutes

Top off water supply in sterilizers and self-contained water systems

Empty waste water bottle from tabletop sterilizer, if applicable

Fill ultrasonic cleaner with fresh solution

Check cleaner/lubricant levels on handpiece maintenance machine
Throughout the day, between EACH patient
Flush waterlines on delivery units for a minimum of 30 seconds

Sterilize and lubricate handpieces and instruments

Disinfect surfaces with preferred disinfectant per instructions (Do not spray directly on equipment)
End of day
Flush vacuum lines with vacuum system cleaning solution

Remove and empty water bottles, leave upside down to dry overnight

Drain ultrasonic cleaner, ensure drain is not obstructed

Clean and disinfect all contaminated surfaces and equipment
WEEKLY TASKS:
Run sterilizer cycle with spore test

Remove racks and trays from chamber sterilizer, wipe interior with cloth or Scotchbrite pad, replace gasket if worn

Drain and replace water on chamber autoclave (recycling models only)

Clean cassette with Scotchbrite pad, lubricate seal with Stat-Dri (Statim Models)

Inspect o-rings on handpiece cleaner adapters and replace oil collection pad

Clean interior of ultrasonic cleaner tank
MONTHLY TASKS:
Clean sterilizer chamber with manufacturer specified cleaning solution (Speed-Clean, Omni-Cleaner, Chamber Brite, etc.)

Inspect and clean sterilizer seal, replace if necessary

Wipe surfaces with mild soapy solution to remove surface disinfectant residue
Looking for a comprehensive guide to sterilization and infection control? The American Dental Association has lots of resources.
We Can Help!
Even with preventative maintenance, dental equipment and technology malfunctions. And, it usually happens at the most inconvenient time. Just a few hours of lost productivity can cost you thousands in lost production.
Goetze Dental's Service Team is committed to providing the solutions you need to keep your equipment & technology functioning. Call 800-692-0804 and choose option 5 to schedule an appointment. Or click here to request service call online.