When it comes to dental equipment, preventative maintenance is a must. Equipment must be properly cared for to keep instruments working at peak performance for as long as possible, but also you—as the health care provider—and your patient must be kept safe from infection. Through preventative maintenance tasks daily, weekly, monthly and annually, your dental practice lessens the chances of unexpected equipment failures resulting in downtime, as well as more importantly, safety concerns.
As you know, managing a dental office and the necessary dental equipment maintenance tasks is often overwhelming. Our goal here is to simplify things in a short three-part blog series covering dental equipment preventative maintenance specific to sterilization, operatory, medical gas and IT tasks.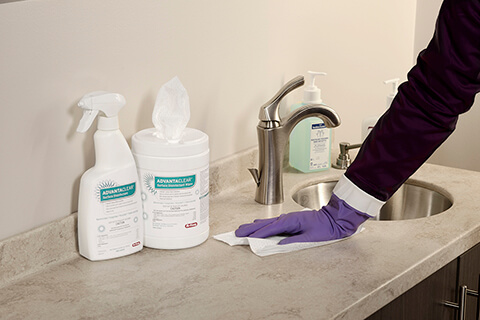 Image by Hu-Friedy®
Hu-Friedy's AdvantaClear

Surface Disinfectant is a convenient, ready-to-use, intermediate level disinfectant designed to clean and disinfect dental surfaces.
Operatory Preventative Maintenance
Does your process have a well-outlined document outlining all maintenance tasks in the operatory? With patients coming and going and the business of the day, it is important that these are clearly visible and imperative they are performed well to minimize contamination and infection and to keep equipment running at peak performance. Review these tasks with your team often, and make sure to revise them as necessary. In doing so, you will find they become second nature.
DAILY TASKS:
Morning
Flush waterlines on delivery units with preferred treatment solution for a minimum of two minutes
Perform Between Each Patient
Flush waterlines on delivery units for a minimum of 30 seconds

Sterilize and lubricate handpieces and instruments

Disinfect surfaces with preferred disinfectant per instructions (Do not spray directly on equipment)
End of Day
Remove and empty water bottles, leave upside down to dry overnight

Clean and disinfect all contaminated surfaces and equipment

Properly disconnect, charge, & store small equipment items, ensure x-ray equipment and servers are securely locked away from unauthorized access
WEEKLY TASKS:
Empty solids collectors in operatories

Test waterlines and treat, if applicable

Remove handpieces and couplers from tubings, lubricate threads

Inspect o-rings on couplers and electric motors

Clean and inspect operatory light shields

Replace gauze in oil collector on delivery systems

Wipe surfaces with mild soapy solution to remove surface disinfectant residue

Run full virus scan on workstations

Run and apply Windows updates, if applicable

Shutdown or restart workstations
MONTHLY TASKS:
Disassemble, clean and lubricate suction components (HVE, SE, Canister)*

Perform shock treatment on waterlines (if no treatment systems in use)*

Inspect intraoral x-ray unit for proper movement and inspect cone integrity*

Check all units, lights, and monitor mounts for drifting*

Inspect medical gas rubber goods for damages and ensure proper function
ANNUAL TASKS:
Lubricate pivot point on chairs and stools

Check handpiece and water bottle pressures

Replace waterline filters, if applicable

Inspect handpiece and suction line tubings, replace as necessary

Inspect Air/Water syringe o-rings, replace as necessary

Perform x-ray calibrations as required by state regulations*

Perform nitrous oxide calibration as required by state regulations*
*May require qualified service technician
We Can Help!
Even with preventative maintenance, dental equipment and technology malfunctions. And, it usually happens at the most inconvenient time. Just a few hours of lost productivity can cost you thousands in lost production.
Goetze Dental's Service Team is committed to providing the solutions you need to keep your equipment & technology functioning. Call 800-692-0804 and choose option 5 to schedule an appointment. Or click here to request service call online.