Designing a brand new dental office is a dream for many dentists, but it's not just about aesthetics. Whether you're a new doctor or have been practicing for decades, a new office can be a great business decision.
For private dental practices, office design is one of the best ways to stand out from corporately-owned practices. Your office should represent your brand, values, and connection to the community.
We have worked on hundreds of design projects and have seen many great ideas. Here are 20 of our favorite dental office design ideas from private dental practices around the country.
Reception Area
1. Displaying Artwork from Local High School
Kanning Dental is an integral part of the community in Lawson, Missouri. When they renovated their office, they decided to show their community pride by displaying artwork from local students. Kanning Dental teamed up with the local high school art department to rotate new artwork every six months, giving patients something truly unique to enjoy while waiting for their appointment.
2. Rustic Modern Design
Private dental practices are known for their personality and warmth. Altoona Dental in Altoona, Iowa is a perfect example. When they built their new offices, they chose a rustic modern design that was welcoming, comfortable, and stylish.
3. Monkey Theme at Children's Dental Professionals
A trip to the dentist can be scary for kids, but not when they go Children's Dental Professionals in Wichita, Kansas. Lovingly known as the "Monkey Dentists of Wichita" by their young patients, Children's Dental entertains children and their families with a jungle-themed reception area. Their young patients love playing in the children's area covered by a canopy of realistic trees.
4. Underwater Theme for Pediatric Practice
Here's another example of a children's practice going "all in." Dentistry for Children in Kansas City, Missouri went with an underwater theme during their recent office construction project. The walls are covered with fish and scuba divers, while the reception desk is shaped like the hull of a ship. The theme extends into the operatories as well, with underwater images decorating the walls.
5. Beach Theme at Lighthouse Dental
Not a children's practice (but still a fan of the sea), Lighthouse Dental in Raytown, Missouri redesigned their new office with a tasteful and inviting beach theme. The 11-operatory office is filled with miniature lighthouses and beach-themed decor, wrapped in walls of coral, aqua, purple, and light grey. Want more dental design ideas? Check out our Inspiration Gallery!
Operatory
6. Windows For Each Chair
Patients don't want to stare at a wall during their appointment. Windows provide natural light and interesting views to keep a patient comfortable. New Haven Dental and New Image Dentistry both incorporated this design idea by placing all operatories on the outside walls of the office. Windows are also healthy for team members who would otherwise work all day without seeing sunlight.
7. Splashes of Color
Dental office design has been shifting towards neutral tones, but Parkcrest Dental found a way to add splashes of color with a modern twist. When they expanded their Springfield, Missouri office, they created color-themed operatories in their pediatric wing. The upholstery on the chairs pairs perfectly with the colorful geometric shapes on the walls, giving their young patients a fun space for their appointment.
8. Natural Wood Theme
On the other end of the design spectrum is this beautiful natural wood theme at West Plains Dental. When West Plains built their new office, they installed brand new A-dec Preference Collection cabinetry with a natural wood finish in each operatory.
Offices and Employee Areas
9. Boardroom for Team Meetings
Just like any other business, dental practices need space for team meetings and strategy sessions. As part of their expansion and redesign project, Parkcrest dental built a brand new boardroom for their large practice.
10. Cubbies and Lockers for Employees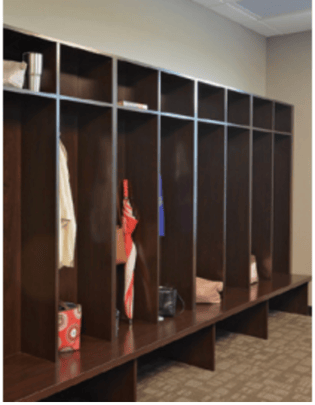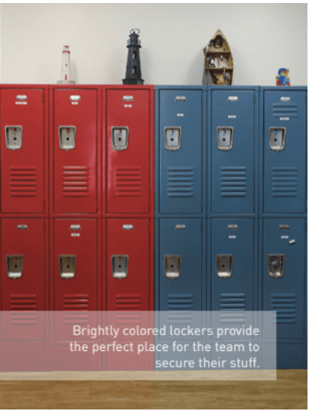 Dental offices shouldn't just be designed for patients, but employees as well. That's why we recommend getting your team's feedback when planning an office design project. One of the most important spots for employees is the lounge. Practices like Plaza Dental and Lighthouse Dental give their employees space to hold their belongings during work.
11. Unique Private Offices
Some doctors care deeply about the look and feel of their private offices. Dr. John Dorsch designed his timeless office himself, pulling in elements of his family life, career, and personal tastes. Each office will be different, but the important thing is that it fits you. Want more dental office design Ideas? See our Inspiration Gallery!
Children's Area
12. Virtual Game Room
What better way to keep kids entertained than a virtual game room? Altoona Dental's new office is equipped with a room for virtual soccer and other fun games. The games keep children occupied while they wait for their parents or siblings to finish their appointment.
13. Children's Den with "fireplace"
Not all children's areas have to be high tech. The charming children's den in Plaza Dental has plenty of toys to keep kids entertained while they wait for their appointment.
14. Children's Underwater Playground
We already featured the underwater-themed reception area at Dentistry for Children in Kansas City, Missouri. However, the children's areas deserve a second look. The pediatric practice has decked out their reception room with touchscreen video games and a jungle gym with a slide, tunnel, and captain's wheel.
Construction
15. Building New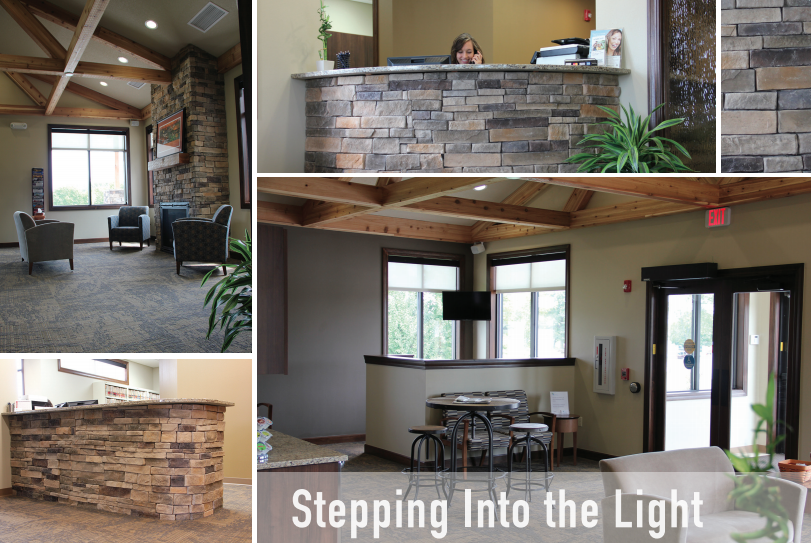 Building a brand new building is much more affordable than many doctors think. Plus, it's a chance to create the perfect space for your practice. West Plains Dental and Ames Family Dental are two practices that took advantage of this option, finding reasonably-priced land in great locations to build their dream offices.
16. Renovation
Sometimes a dental practice has an existing space that needs renovation. Often this means renovating an existing office, but other times the renovation requires a total space transformation. For example, Northwest Family Dental in St. Joseph, MO transformed a former Aldi's Supermarket into a beautiful office .
18. Expansion
A third option for growing practices is to expand their existing building. That's exactly what Parkcrest Dental did when they grew their practice from 28 to 38 operatories and added 6000 square feet. Because they did the expansion in phases, Parkcrest never had to shut down during construction.
18. Temporary Offices After Disaster
This is one dental office design idea we hope you never have to use, but it shows amazing ingenuity in a time of need. After Joplin, Missouri was hit by devastating tornadoes in 2011, the dental office of Drs. Menke and McAllister was destroyed. However, they would not let this disaster keep them down. In a matter of weeks, the dental practice set up business in 4 conjoined trailers and continued serving their patients. Drs. Menke and McAllister worked out of their temporary office for 18 months while their new space was being built. Read the rest of this amazing story here.
Miscellaneous
19. Selfie Wall for Happy Patients
The patients of Dr. John Dorsch love to show off their pearly whites after their ortho treatments. That's why the Liberty, Missouri practice set up a selfie wall in their pan room. The selfie wall is fun for patients and great for business. "A lot of my patients learn about me because they have seen one of these selfies on social media," said. Dr. Dorsch.
20. Locally-Inspired Logo
The small town of New Haven, Missouri has an unofficial emblem: the shamrock. It's the mascot for the local high school, and now part of the new logo for New Haven Dental. As an integral part of the community, Dr. Jenifer Moser and her team wanted to show off their city pride in their brand new office building.
Getting Started with Your Own Dental Office Design Project
Are you inspired by the dental office design ideas in this chapter? Get started on your dream office by scheduling a consultation with the Goetze Dental design team. Our expert designers played a role in each of the projects listed here and will be happy to get started on yours. Contact Inga at design@goetzedental.com or fill out the form below!