In 2013, Dr. Chris Hickerson located the perfect space for his new practice in his hometown of Derby, Kansas. He needed a partner to help with the buildout, and a conversation with an old classmate led him to Goetze Dental.
"Goetze was a good fit for me," said Dr. Hickerson. "I like how they work, what they sell and how they sell it. They are transparent… they put their cards on the table and they're honest."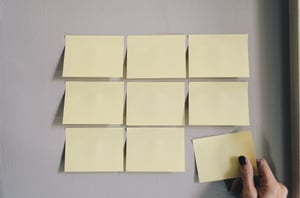 Dr. Hickerson chose to outfit two operatories and carve out space for three more. Planning for expansion is a smart strategy because it is more expensive to add operatories after the fact. Dr. Hickerson recommends other dentists do the same, because so much of the planning process is, "considering the needs of the practice going forward."
Another decision that afforded this practice flexibility early on was to purchase a Nomad portable x-ray system. With this handheld device, doctors and hygienists can carry the x-ray between operatories instead of installing fixed x-rays at each chair. They also installed serialized dental equipment, as opposed to permanent cabinetry, so that the equipment wouldn't become ownership of the landlord if the practice decided to move. This also has depreciation implications that could save on your tax liability, so be sure to also consult your tax advisor as you're working through the planning process.
In the end, Hickerson Dental's new office had the look and feel of a high-end practice, while still retaining the intimacy of a small-town dentist.
The Benefits of Proper Planning
Hickerson Dental's new office is an example of how proper planning can make all the difference in a dental office design project. Thanks to his forward-thinking mindset and help from his equipment specialist, Dr. Hickerson was able to save money while building the perfect facility for their practice.
Planning your dental office design project is a big undertaking. If you've never designed an office before, we highly recommend working with an experienced team to walk you through it.
At Goetze Dental, we have had a dedicated dental office design team for over 50 years. Whether you're planning a redesign or building new, here are the planning steps we follow for each project.
3 Steps for Planning a Dental Office Design Project
1. Build Your Team
Having the right team around you is the first and most important step of any successful design project. Even if you have built-out an office before, the right team will ensure you're up to date on the latest design trends, equipment innovations, and regulations. They also help the project run smoothly so that you can enjoy the process. After all, how many times do you get to design your dream office?
Your Goetze dental office design team includes an equipment specialist, a private practice specialist, and a design specialist. The equipment specialist has extensive knowledge of all the products available for your project and helps you navigate and refine the decision-making process. Your designer will layout your office to meet the specifications that accommodate your equipment.
Other team members will eventually be involved as well. Your project team will likely include a general contractor, subcontractors, an architect and possibly an interior designer. The Goetze Dental team will coordinate with these other parties to make sure the buildout goes according to plan.
Some practices choose to work with an architect to design the site before contacting Goetze Dental, and that's ok! We are happy to work with architects in this capacity. Especially if the architect has limited experience designing a dental office, support from your Goetze Dental design team will make certain that proper considerations are made for placement of plumbing and electrical for your dental equipment.
2. Design Specs and Requirements
Once you have your team in place, you will sit down with your designer to discuss your wants and needs for the new space. Many doctors already have a good idea of what they're looking for, while others are starting with a completely blank slate. Either way, the designer will help you develop your project requirements and specifications.
While every office design project is different, there is a standard set of questions for each space. In the reception area, for example, how many chairs do you need? Do you want a children's space? Will you offer refreshments and snacks? How many greeting stations will you have?
For these types of decisions, we developed a design planning checklist that walks you through important specs for each space. Download your own dental office design planner here:
Download your FREE Dental Practice Design Planner!
Other questions are more personal and unique to your practice. These are questions about your brand, desired aesthetics, and your vision and business goals. It pays to work with an experienced interior designer when you reach this stage of planning. They can take all of these factors and incorporate them into a coherent plan.
3. Create Your Design Plan
After brainstorming design ideas, everything must come together into a cohesive design plan. Your designer will help you put this plan together, which will include:
Office Location.

While not part of the design plan itself, office location is a critical precursor and will shape all other design plans. The right office will accommodate the growing needs of your practice while staying convenient for new and existing patients. Will you lease, purchase, build?

Financing and Logistics. Every construction project needs financing and scheduling. We will help you get the most out of your budget and also recommend financing solutions to fund the construction and any equipment investments. Your interior designer will work with the construction team to build an accurate timeline of the project. Learn more about financing and logistics in another blog post.
Floor Plan Design.

The modern dental office has changed drastically. Today, workflow logistics and patient experience are at the forefront of floor plan decisions. New office floor plans place sterilization in the center of the practice with at least two points of access. Operatories are placed along the perimeter and have windows, so the patient and team members can enjoy natural light with a view.

Front Office/Reception Area. Reception areas will vary based on the needs of your practice. If you work with families, you might want a children's area in your waiting room. If you serve a significant number of young patients, providing workstations with wifi, tables, and outlets will allow busy parents to work while they wait. Your designer can help you weigh the pros and cons of each feature to help you design the perfect reception space. We have a blog post dedicated to front office/reception area design for you to learn more!
Equipment. Equipment specifications are one area of the design process that deserves a lot of attention to detail. Doctors need to choose which equipment they plan to keep, which they plan to replace, and what their budget is for new equipment. Your equipment specialist is your go-to resource for all equipment-related questions. Read more about choosing equipment.
With this information in hand, your designer will develop the first draft of your design plan. This is often an exhilarating moment for doctors because it's the first time they can fully visualize their new office.
Remember that this first draft is just that: a draft. When working with Goetze Dental, we are 100% committed to creating an office you love, so don't be afraid to give your designer feedback and critiques. Feel free to change your mind or ask for new drafts. We will work with you until the design is perfect.
We will also work with your architect and general contractor to develop a buildout plan. Once we have a final plan in place, it's time to bring your office to life.
Construction and Beyond
Once your team, requirements, and design plan are in place, your project is ready to begin. Your Goetze dental office design team will work with the general contractor and sub-contractors throughout the process to ensure everything meets your specifications.
Even after the construction crews leave and your buildout is complete, you won't be alone. Your designer, equipment specialist, and Goetze Dental Private Practice Specialist will check in with you regularly to make sure you're settling into your new space .
As your practice continues to grow and change, you can be confident in knowing you'll always have a partner on your side to help you navigate the murky waters. We have worked with some practices for over 50 years! Rest assured, we'll be there for you when you need us.
We've learned a lot over the many years we've spent building dental offices. There are several tips and best practices we encourage each practice to follow. Read up on our top 9 tips for designing your dental office!
If you're ready to discuss your own design plan, contact our design team at design@goetzedental.com.