Dr. Brandon Patten and his team were tired of working in the dark. His practice– Ames Family Dental in Ames, Iowa– had been located in a basement for 43 years and had zero natural light. When Patten was offered an opportunity to buy land, he acted fast. The next step was to find a partner to help him build and design the new office.
Ames Family Dental worked with Goetze Dental senior interior designer Inga Paul to expand the practice from five operatories to ten. The brand new structure was full of sunlight and natural accents like stone and cedar.
"We've seen a significant bump in business since opening the new office," said Dr. Patten. "Within one month of being in our new location, we had 53 new patients."
The new office has done more than just bring in new business. It has also created a better working environment for Dr. Patten and his team.
"We have team members who had worked at that old office for 25 years and had never worked in natural light. It's been a huge improvement for both our team and our patients. Everyone loves the new space."
The story of Ames Family Dental illustrates a question many private dental practices face: Is it time for a new office? Whether it's a simple redesign or building a brand new structure, a dental office design project can be a tall order. But it is also one of the best things you can do for your practice, patients, and team.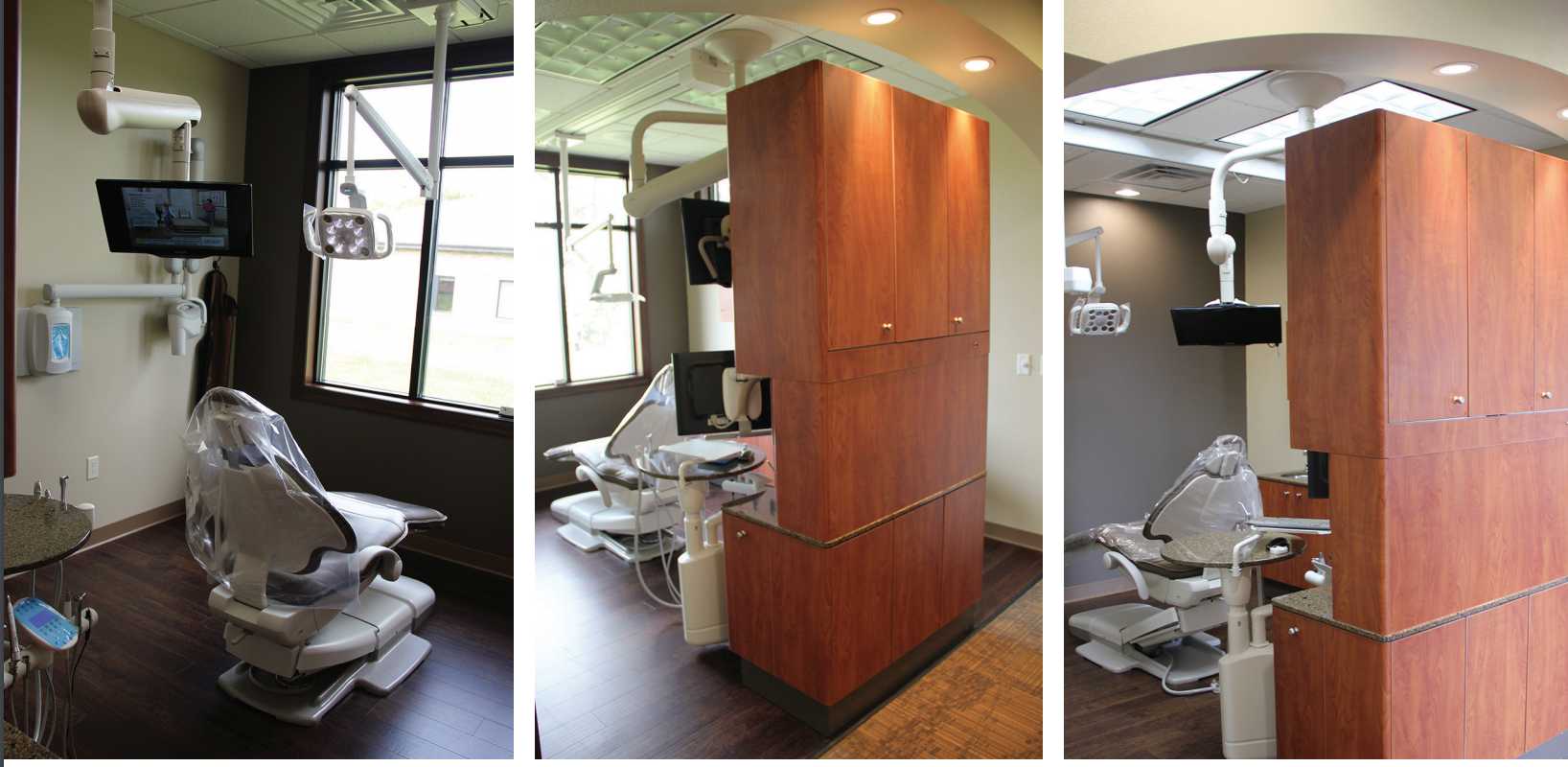 The New Age of Dental Office Design
Office design projects are not just about aesthetics. Innovations in dental technology over the last 15 years have drastically changed the way doctors treat patients. Digital radiography has rendered dark rooms obsolete. Computers in the operatory are the norm, and equipment for in-office milling and printing is becoming more common. Dental office spaces need to be redesigned to fit new equipment and optimize workflow.
Ergonomics are also a critical factor in today's dental office. The long-term health of you and your team requires that operatories are designed with the specific user in mind. Twisting, reaching, and moving around should be kept to a minimum. Well-organized operatories also make patients more comfortable and confident in your work.
At Goetze Dental, our experience working exclusively with private practices since 1884 has taught us a thing or two about dental office design. We have many resources that share with you key principles, design techniques, and advice to help your project run smoothly and efficiently. Our goal is to help you build the office of your dreams, one that will grow with your practice so you can reach your personal and professional goals.
Principles of Dental Office Design
Dental office design projects can range from redoing a single operatory to building a brand new office. Regardless of the size and specifics of your project, there are a few key principles to keep in mind throughout the process:
"Operatory-Out" Design
Operatories are the centerpiece of your practice for both the patient and your bottom line. That's why the operatory should be the core element of every office design project. "Operatory-out" design means planning the optimal experience in the operatory before anything else.
When designing operatory-out, you have to consider two perspectives: the patient's perspective and those of you and your team. For the patient, the operatory should be clean, well-organized, and comfortable. For you and your team, it needs to be functional and ergonomic.
Following operatory-out design will ensure the most important space in your practice is taken care of. The rest of the design will then fall into place.
Consider Your Practice's Brand
Patients have more options than ever, including corporate dental offices that have extensive branding and marketing resources. Creating a strong and recognizable brand will help your practice stand out and build patient loyalty.
When starting an office design project, many practices will choose to revamp their brand identity and digital assets as well. This could include a new website, logo, professional photography, and advertising.
However, the most important part of your brand is your personality and connection to the community. Your new office should reflect your personal interests as well as things that are important to your patients. For example, one of Goetze Dental's clients teamed up with the local high school to feature student artwork throughout their space.
Branding is a major way private practices can differentiate themselves from corporate dental offices. Any new design project should include elements that are unique to you. Here are 20 more Office Design Ideas for your modern dental practice.
Identify Your Vision and Business Goals
Many dental office design projects result from a need to grow the practice. However, many doctors forget that this won't be the last time their practice will experience growth.
Don't just build your new office to meet the needs of your practice today; your new office should be designed to meet your future needs as well.
That's why it is so important to develop a vision and business goals for your practice. How big do you want to be in 5 years? Are you planning to bring on an associate or partner? What is your long-term plan? Do you intend to sell, pass your practice on to a daughter or son, or something else?
Identifying your goals and vision will help you make decisions about your design project. For example, if you're a specialty practice but plan to sell your office in the future, then it would be wise to add general features, even if you don't need them. If your office has a lab, it will be more valuable to a general practitioner who is interested in buying your space.
You want to build an office that can adapt to your practice as it changes over time. Your design team will help you think long-term about your project.
Building the Office of Your Dreams
Building a new office is a dream for many dentists. It's your chance to leave your mark on every last detail. After years of fitting into a space, it's now your time to create a space that fits you.
This is an exciting time, but one that also requires making big decisions. Should you redesign your existing space, find a new location, or build an entirely new building? Do you need new equipment? How big should your space be? How will you finance the project?
We have the answer to all of those questions and more. Learn about the steps of planning an office design project and tips for making it go smoothly in our next blog post. If you have any questions, you can schedule a free consultation with us!
Building a new office is a dream for many dentists. It's your chance to leave your mark on every last detail. After years of fitting into a space, it's now your time to create a space that fits you.